Australia's Newest
Plasma Fractionator

Shareholder Announcement
Friday 25 August
Aegros is pleased to announce the appointment of Ernest & Young (EY) as our new Auditors.
The Board of Aegros has resolved to appoint EY as the Company's Auditors replacing Hall Chadwick, effective for the 2022-23 Audit. The Board has taken this action as part of the Company's preparation for an expected IPO in the 2024 calendar year. The Board would like to thank Hall Chadwick for its work completing the 2018-19 to 2021-22 year audits. The decision to change Auditors does not reflect on this work, but rather a desire to lift the level of expertise in the BioPharma space, which EY brings. This change is one of the many required to prepare Aegros for a potential IPO in the 2024 calendar year.
The Board would like to reiterate that an IPO is not a goal of the Company, but rather a result of achieving the following Company Goals:

Completion of the Covid-19 hyperimmune Clinical trial;

Completion of the renovations to expand the Covid-19 Hyperimmune manufacturing capacity to 100,000L pa. This includes obtaining TGA GMP registration for this expanded facility; and

First sales of Aegros Covid-19 Hyperimmune. This includes obtaining TGA Australian Register Therapeutic Goods (ARTG) licensure.
While a number of these goals are outside of the Company's control, it is never the less, working towards achievement of these goals by 30 June 2024.
On behalf of the Board
Aegros Investor Presentations
Visit Aegros' YouTube channel for access to more investor presentations and other media. 
Aegros HaemaFrac® represents a New Market Disruption1 to the plasma fractionation industry by halving the cost, reducing the environmental impact, while enhancing product safety2,3.
Covid-19 has fast tracked commercialisation of Aegros' first HaemaFrac® product, Covimmune™, designed to provide passive immunity against infection with SARS-CoV-2 (the virus responsible for Covid-19).
The Australian Therapeutic Goods Administration (TGA) Good Manufacturing Practices (GMP) accreditation establishes Aegros as Australia's newest plasma fractionator along with CSL.
History of the Therapeutic Plasma Products Market
Plasma fractionation has not fundamentally changed since Edwin Cohn treated seven sailors suffering burns following the WWII Pearl Harbour attack in 1941.
The 1980s HIV/AIDS blood supply contaminations resulted in regulator consent decrees which created the consolidated, highly automated, capital-intensive industry we have today. Existing fractionators are bound by these grandfathered approvals which effectively render any changes to the prevailing production process prohibitively expensive.
Today the industry is on the flat section of the cost curve, focused on fractional cost reductions. Currently, CSL is the industry leader, manufacturing up to six products in 10,000L batches4.
The HaemaFrac® GMP accreditation by the TGA in October 2021 is the first new IVIG process to be approved since the 1980 safety regulations were introduced.
Current Therapeutic Plasma Products Market
Therapeutic plasma products represent a US$19.7B global market5.
70% of global plasma product sales are to Europe and the USA, which account for only 15% of the world's population, leading to a significant shortage of therapeutic plasma products in other markets.
The Australian National Blood Authority (NBA) spent $511m in 2021-22 on these human plasma products, of which 48% were imported6.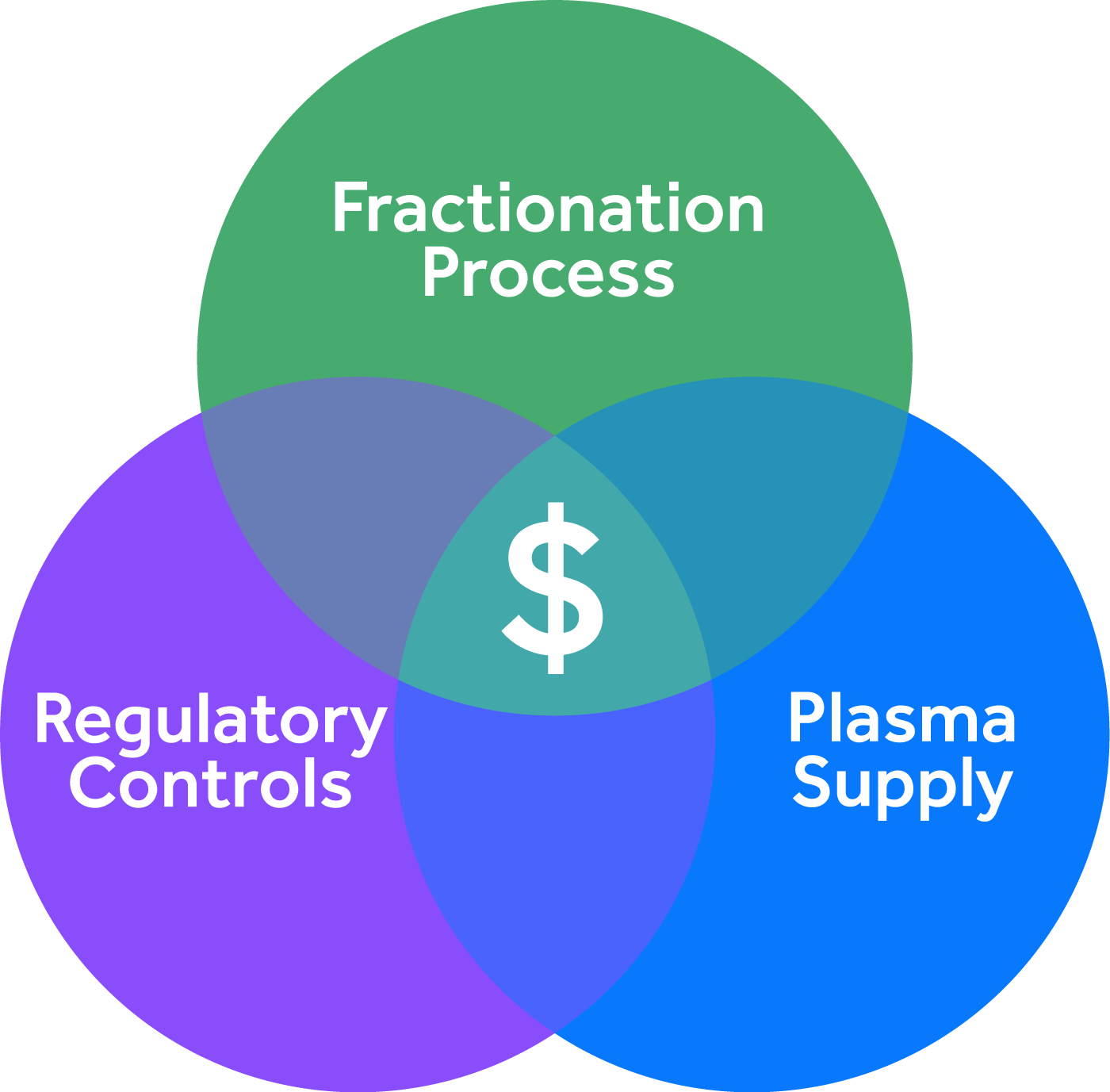 Drivers

of the Therapeutic Plasma Products in Emerging Markets
There are three critical drivers of therapeutic plasma products.
Existing fractionators use antiquated manufacturing processes which are capital intensive, low yielding and sensitive to raw material (plasma) quality. Using existing processes, the minimum economically viable plant size is approximately 300,000L p.a. To put this in perspective, most emerging countries collects less than 100,000L of plasma p.a.
The cost of raw materials account for 5% of most pharmaceutical products9. In contrast, raw materials (plasma) accounts for a much higher 43% of costs for Therapeutic Plasma product producers10. This disparity is driven by both the cost of plasma and the low production yields, making any process which reduces this cost a Therapeutic Plasma Market Disrupter.
The HaemaFrac® significantly increases process yield, decreases process steps, and the environmental footprint thereby providing a higher quality, lower cost product.
Further, plasma fractionation is capital intensive, with a typical capital cost around US$150 – $200m for a 300,000L facility. The restrictions of plasma supply and capital cost have precluded countries from setting up their own fractionation facilities. This conflicts with the World Health Organisation (WHO) mandate that all countries should become self-sufficient in therapeutic plasma products11,12.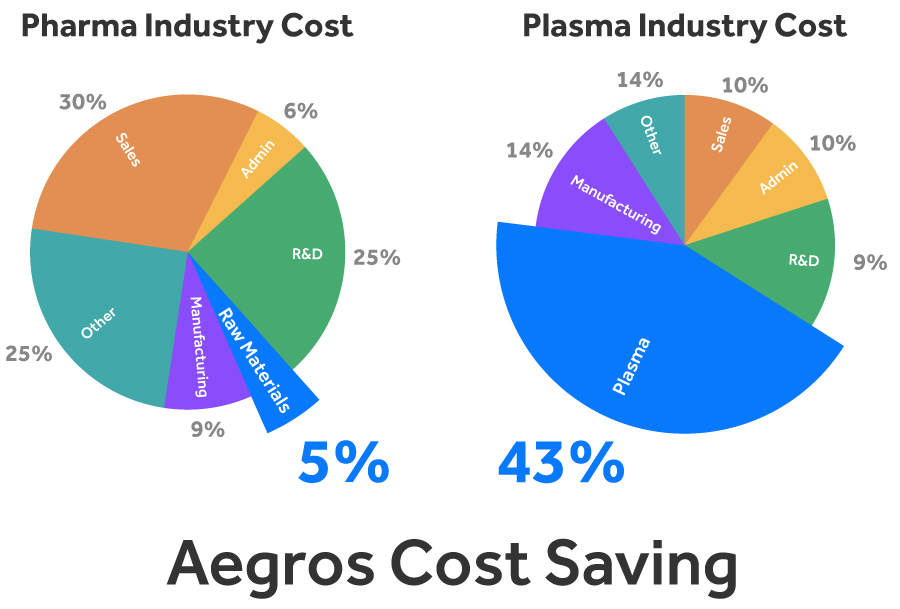 As therapeutic plasma products are derived from human blood the entire production process from blood collection to finished product shipment is subject to stringent regulatory controls.
Existing processes cannot eliminate pathogen contaminations. For this reason, regulators such as FDA and EMA enforce stringent controls and will not allow fractionators to process plasma from countries which do not meet minimum standards. This is another factor driving the demand for replication of the HaemaFrac®.
Regulators control the manufacturing process by licensing fractionation facilities under a regulation called Good Manufacturing Practice (GMP). Further, the finished products require country specific Marketing Approval before they can be sold. This generally involves undertaking clinical trials which are capital, time and resource intensive.
Aegros received GMP accreditation from the TGA for its 4,500m2 facility and the HaemaFrac® process to fractionate CovimmuneTM in October 2021. Aegros has also completed the first arm of its CovimmuneTM clinical trial and expects to complete the second arm in early 2022.
Human plasma (the liquid component of human blood) is the critical raw material from which all therapeutic plasma products are manufactured.
Plasma is controlled at the country level and many emerging countries discard their plasma, resulting in an estimated 5.8m litres of plasma wasted each year7.
Further, only US plasma can be used to manufacture products sold into the US market. This restriction is pressuring supply and pricing as the US collects 64% of the world's plasma8.
In addition to discarded plasma there is a continuous supply of partially processed plasma which the existing fractionators are unable to use.
Using its unique HaemaFrac® technology (patent pending), Aegros can fractionate both plasma sources.
Aegros can trace its developmental roots back to the original work undertaken by Dr Joel Margolis and Dr Perry Manusu in the early 1980s. In all that time it was driven by a desire to develop better, more sustainable products to treat life threating diseases. We make products we are happy to inject into a family member. This is reflected in Aegros' vision of 'Patients first through innovation'. As a commercial company, Aegros is focused on making a profit, but never at the expense of safety and efficacy.
Aegros will seek to list once it has:
Completed its Covimmune™ clinical trial; and
Received orders for its Covimmune™ and replication of the HaemaFrac® process.
Finally, we encourage our shareholders to communicate with us so you can be fully informed of all developments.
New Market Disruption as defined by Clayton Christensen in The Innovator's Solution, view source

M. Evtushenko, K.Wang, H.W.Stokes, H.Nair, 2005,  Blood protein purification and simultaneous removal of non-enveloped viruses using tangential flow preparative electrophores is. Electrophoresis, 26, 28-34,

Wang, K,  Johnson, A, Obradovic, M,  Anderson, G,  MacLean, C,  Nair, H. 2005,  TSE clearance during plasma products separation process by Gradiflow. Biologicals, 33 (2) 87-94,

CSL Report Intelligent Investor, 23 March 2015

Why does the Plasma Industry differ from the Pharma Industry, Patrick Robert, IPPC Conference, Barcelona July 2016.

NBA Annual Report 2019-20 page 34-35, view source

Improving availability and affordability of plasma-derived medicines, Abdol Majid Cheraghali, Biologicals, Vol 38 2010, page 81-86.

Why does the Plasma Industry differ from the Pharma Industry, Patrick Robert, IPPC Conference, Barcelona March 2016.

The Plasma Fractionation Industry, John Curling and Christopher Bryant, Bioprocess International, March 2005 Page 18-27.

Why does the Plasma Industry differ from the Pharma Industry, Patrick Robert, IPPC Conference, Barcelona March 2016.

World Health Organisation – 63 World Health Assembly, 10-12 May 2010, Resolution 63.12 – Availability, Safety & Quality of Blood Products

Guidance on increasing supplies of plasma-derived medicinal products in low- and middle-income countries through fractionation of domestic plasma. Geneva: World Health Organization; 2021. Licence: CC BY-NC-SA 3.0 IGO.