Aegros recently had the pleasure of hosting two work experience students from the German International School Sydney (GISS), to give them an insight into what Science, Technology, Engineering and Mathematics (STEM) looks like in a commercial setting.
Aegros' Research & Development team was pleased to host the students, Niamh D'Mello and Seungheon (Daniel) Choi, who were on site for two weeks, shadowing Aergos' research scientists and learning to perform chemical assays and other research activities.
Caption: German Interational School Sydney students, Niamh D'Mello and Seungheon (Daniel) Choi, in the Aegros cleanroom with the HF-01 HaemaFrac®.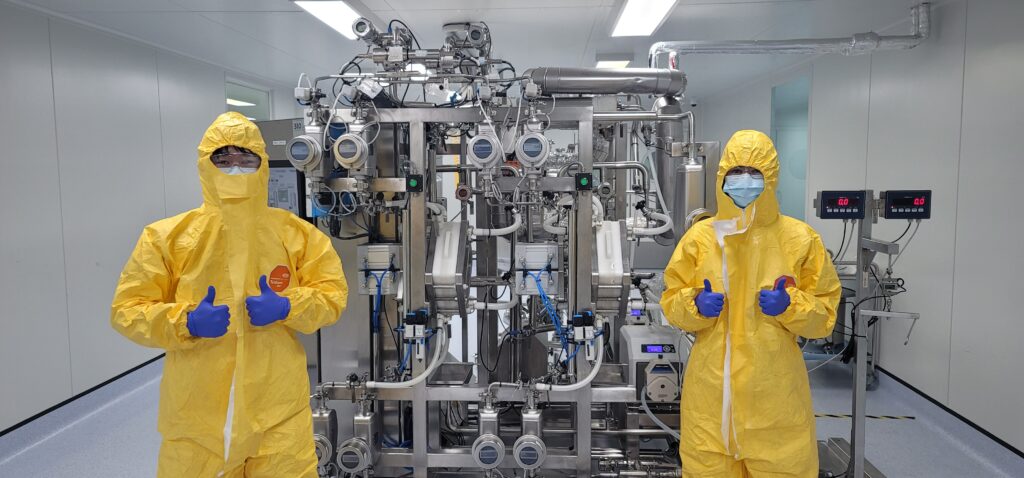 This is the second year Aegros has hosted GISS students for work experience placements, which plays a part in Aegros' engagement with learning institutions to produce the STEM workforce of the future.
The feedback from the R&D team about the GISS students was full of praise for their acumen and inquisitiveness; traits that will stand Niamh and Daniel in good stead as they study to secure places in tertiary courses that further their interest in STEM.
Commercial science and technology organisations such as Aegros are always in need of a range of scientists, engineers, and innovators to produce the next big breakthrough or develop new applications for existing technologies. And while there are plenty of institutions and choices of degrees for those wishing a STEM career, opportunities for students to see STEM applied in the workplace are few and far between.
Hosting work experience students is just one way Aegros seeks to build the workforce of the future; Aegros also engages with undergraduate and graduate students for internships and R&D apprenticeships. Aegros works with universities and academic research centres, to develop course curriculums that produce work-ready graduates, and Aegros engages with leading research institutes around the world on a wide range of STEM projects.
During the time Niamh and Daniel were with Aegros they underwent GMP gowning training, suiting up in Tyvek protective equipment and then performing experiments.
If you thought wearing glasses and a mask was a challenge during Covid-19, performing laboratory experiments in Tyveks is the next level of difficulty.
Aegros thanks Niamh and Daniel for their interest in STEM and hopes that their time with our R&D team will set them up for a satisfying STEM career.